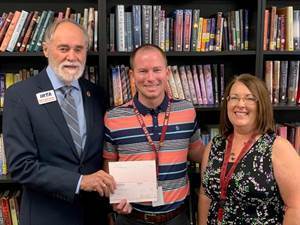 Congratulations Mr Keeley!
Kelly Snyder
Tuesday, October 01, 2019
The Excellence in Education Grants for Teachers Program Awards $36,500 in Grant Money The Illinois Retired Teachers Association Foundation (IRTAF) awards $36,500 in grant money to several public school educators (Pre-K through 12) statewide. IRTAF is affiliated with the Illinois Retired Teachers Association, a lobbying group for retired educators, with a current membership of over 38,500. On October 1, 2019, Conor Keeley was awarded his/her IRTAF grant check. Below, you will find more information on the winner, along with his/her school, the amount of the award, IRTA Area, and a summarized paragraph of the project in the winner's own words. Conor Keeley, Millstadt, Millstadt ($300.00) Area 6 I have been a 5th grade Social Studies teacher for the past 3 years. On August 1st, two weeks before our school year was about to begin, my assignment got changed to teach math and science. I had a classroom entirely set up to teach Social Studies (books, posters, bulletin board borders, etc.) I have tried to transition my room from Social Studies to Math and Science throughout the year, but there is still a ways to go.
The IRTA Foundation designed this program based on the idea that educators often do not have additional revenue sources available for unique student projects or classroom materials. This program allotted a total of $36,500 to Illinois public school educators for these purposes.
Applicants were required to meet the proper criteria and to submit their proposals by early June. The IRTAF Board of Directors selected the grant recipients and awards are being presented now. The Illinois Principals Association played a vital role in assisting IRTAF with the promotion of this program.